AWARDS
This is the awards page. These are all the awards I've won. I'm sure this list will keep growing, so check back often!

Im not sure what this award really means... It looks specail. :p

For my 98 release, "God vs Satan."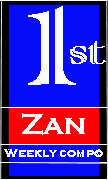 Yes, I won my own compo. Only once though, and I didn't provide the samples.

---
Copyright 1999, All Rights Reserved